Thornton's top tips for Youth Olympics
1 May 2018
YOUTH OLYMPICS: With only 158 days until the 2018 Youth Olympic Games kick off in sunny Buenos Aires, Australia's best junior athletes are gearing up to make their first appearances on the Olympic stage.
For Rio 2016 Olympian, Jess Thornton the 2014 Youth Olympics in Nanjing, China were an important milestone on her Olympic journey.
Thornton was the youngest member of the Australian track and field team at the Rio Games when she competed in the 4 x 400m relay, just two years after she competed In Nanjing, where she said her favourite part of the experience was the cultural aspect.  
"Getting to know different people, their cultures and learning about their values/beliefs. Also, the fact we got to get involved in the activities from both the cultural part and just around in the village," Thornton said. 
We spoke to Jess about her 2014 Youth Olympic experience;
The best memories I have of my YOG experience would have to be winning gold in the 400m sprint and being chosen as the Flag Bearer for the Closing Ceremony.
The Village was awesome; I was still finding things at the end of the trip. It was huge and just a great environment to be part of.
I also enjoyed switching some of my uniform with other countries. I still have the shirts and jumpers that I switched, and I even wear some of them still to this day.
Competition:
I wasn't expecting anything besides to do my best and enjoy it all (more because it was my first international event and first time representing Australia).
So, with saying that, I didn't really feel nervous, I just wanted to go out there and run my hardest. However, getting to the final knowing I had a shot (being fastest qualifier) I was feeling a bit nervous.
With previous times and results, I was never a medal chance for my race and I think that drove me to just focus on myself and not to worry about where I came because just being part of the Australian team was my goal (being my first major international competition).
Venues:
All the venues in Nanjing were amazing and up to a good standard for all athletes.
The rooms didn't have much furniture but if you're not in your bed chilling out or sleeping, you're probably at training, out exploring the village or eating so it didn't really matter too much. Some of the rooms weren't the biggest but if you just kept everything organised then you don't need much space.
The sporting venues were insane. They were very big and so well kept for the athletes. The volunteers did an awesome job to help us out when needed. The crowd that I got at the athletics track was huge and still to date probably one of the biggest I have gotten when I have run on an international stage.
Thornton said that the 2014 Youth Olympic Games were the best (maybe second best to the 2016 Olympics) trip of her life. 

"I still have so many good memories from it and my advice to the next athletes going there would be to live it up and enjoy every moment of it. Enjoy yourselves because for most you it will be the first of many so no need to stress out if things don't go your way, just need to do your best."
Jess's top tips;
Don't pack too much extra clothes, you will be in AUS gear for the entire time.
There are so many options in the food hall, so you will have a good variety to choose from but just stick to what you know best, and you'll be fine.
If you do want specific snacks (fruit bars, muesli, lollies etc) then pack it in your bag before you leave home.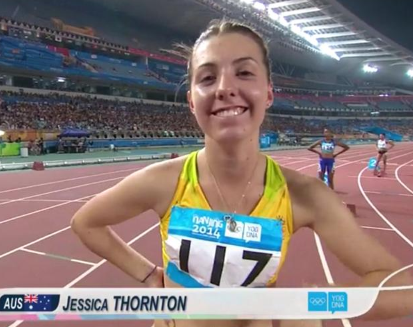 Ashleigh Knight
olympics.com.au