Liane Tooth: Mentoring the next generation
8 May 2019
HOCKEY: After representing her country at four Olympic Games and claiming Australian hockey's first Olympic gold medal, Liane Tooth's commitment to Australian sport continues through the development of the country's up and coming superstars.
For over a decade, Tooth was a defensive stalwart of the Australian Hockeyroos. Becoming the first ever Australian female hockey player to compete in four Olympic Games - Los Angeles 1984, Seoul 1988, Barcelona 1992 and Atlanta 1996. Throughout her Olympic tenure, Tooth collected two Olympic gold medals and two Championship Trophies.
"The two Olympic gold medals were both special, but for different reasons," Tooth said.
"Seoul 1988 was the first time Australian hockey had won a gold medal at the Olympics, which was very sentimental, but it was Atlanta 1996 that was personal for me.
"We had an awesome squad of 24 and I was getting older, so I really had to fight hard to get into the team," she continued.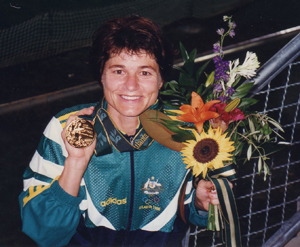 At the time, Tooth was 34 years old, in comparison to the average age of today's Hockeyroos, which is 24.
"There were so many young up and comers breaking through, so it was a fight right until the end for me, but I was named in the team and looking back, I'd say Atlanta was the best I'd ever played personally."
Revered across the country, her name has also been cemented in the community. The Liane Tooth Cup played at Sydney University and the Liane Tooth Field at Pymble Ladies College are credit to the dual-Olympic Champion, however, it's her achievements outside of the game that speaks volumes about her passion for Australian sport.
For the last 25 years, Tooth has dedicated her professional life to increasing sporting opportunities for girls and women.
"I've had three different roles with the WA Department of Sport & Recreation. My first was the role with the Gender Equity unit, where I became more aware of the broader issues for women in sport, which fired up my passion in this area," she explained.
"Then I worked in the area of developing coaches and officials, and my final role was in the Talent Development space, working with sports to develop and improve their talent pathways – obviously another keen passion of mine."
Retiring from full-time work this year, Tooth now focuses on helping young athletes achieve their sporting dreams in a joint initiative with Sport Australia Hall of Fame (SAHOF) and is currently partnered with 470 sailor, Nia Jerwood under a scholarship awarded by SAHOF.
"As far as I am aware, there was nothing like that available at the time I was going through, so it's a terrific initiative," she said of the scholarship program.
"Having the opportunity to utilise an athlete mentor from outside the sport, someone who isn't involved in all the politics, but has been through the system, is a really valuable tool for young athletes. You're able to provide them with a different and neutral perspective," she explained.
"I wasn't sure how useful I'd be, but if it helps these young athletes flourish in their own sporting journeys, then what a great privilege that is for me."
Jerwood says that having Tooth as a mentor has helped push and motivate her to greater heights.
"Having Liane as a mentor over the last year has been such an awesome opportunity. Being able to learn from someone who was very successful in their sporting career and obviously still has a great passion for sport, is so valuable.
"I have really benefitted having someone of Liane's experience to talk to. She had a successful career that stretched over several Olympic cycles, which has been a huge positive as she knows how to stay motivated and hone that desire to succeed.
Although they come from different sports, Jerwood says the guidance and inspiration is transferrable, regardless of what you compete in.
"It definitely helps having someone from outside the sailing world to talk to. Sailing is a very unique sport, however there are many aspects including psychology, fitness and team work which are shared across different disciplines.
"I've found it so interesting hearing Liane's perspective on how both she personally, and her teammates would manage and master some of these aspects of sport and if I could choose the most valuable piece of advice she's given me, it's been to be patient with myself and focus on the process of improvement."
Another area Tooth is passionate about, is women in sport and their increased coverage over recent years.
"It's well overdue, but thank goodness it's finally here!" she said.
"With that, it has increased the profile and audiences have been able to see the amazing skills that sportswomen possess.
"We still have a way to go but that standard will just continue to improve as people invest in that development space, it's only going to get better and expand out to other sports, like my own.
"I am hoping the traction continues to expand and the public get behind us, because we are 50% of the population.
"Women in sport have so much to offer, we need to grab hold of that and recognise the value and opportunity for our games to grow – so small steps, but at least now we've got something to grow on."
Already receiving multiple awards including her OAM, Tooth recently received her OLY post-nominals. Although she values the honour, it was her dad, Richard Tooth, who made it extra special.
"Initially I didn't appreciate the value that things like an OAM and an OLY had, that was until my father received his this year.
"He was awarded his OAM for his role in starting sports medicine in Australia – he actually did the first knee reconstruction in Australia and it was on Johnny Warren. He was actually captain of the Wallabies at one point too," she proudly shared.
"He is an amazing man, and I'm sure he contributed in no small part to my genes, both sporting and being a role model in the way he conducts himself, so seeing my dad receive his recognition, made me realise just how special these things are."
Liana Buratti
olympics.com.au