An Olympic Christmas: part 2
19 December 2016
AOC: With Christmas less than a week away, many of us are pulling out the swimmers, cleaning up the barbecue, and slapping on the sunscreen, ready for the hot festive season.
For some Australian Olympic athletes who compete in water sports, training almost comes as a welcome escape from the scorching hot December days.
But for others, they're looking forward to a few days away from the water and early morning pool sessions.
Recent Sailing World Cup gold medallist Lisa Darmanin will have plenty of opportunities to cool off in the water this summer, as her training schedule remains constant over the festive season.
"Christmas is a pretty busy time of year for sailors with the Aussie summer and peak events all on," said Darmanin.
The Rio 2016 silver medallist says it's fortunate Santa Claus knows when the sailing peak season is.
"Just after Christmas there are sailing national championships all over the country. It's always nice to have a new sail for Christmas, and luckily Santa knows the timing so whenever I get a new sail it's a good Christmas!
"We definitely take a few days break around Christmas, but are straight back on the road to regattas on the 27th or back on the water training and making the most of the summer sea breeze - although it does get pretty busy on Sydney Harbour this time of year!"
Like Darmanin, Rio Olympic debutant and paddler Riley Fitzsimmons can't stay away from the water. He has spent every Christmas at the exact same camping spot since he was born.
It was at Point Plomer on the mid-north coast where the sprint kayaker received his first ever surfboard for Christmas.
"I think that's the first time I had ever experienced what they call 'love at first sight'.
"I remember mum and dad wouldn't buy me a surf board until I learnt how to swim, but after a few months at swim school I woke on that sunny Christmas morning to my new board."
This year, the athlete from Avoca Beach is looking forward to the escape and the Christmas food.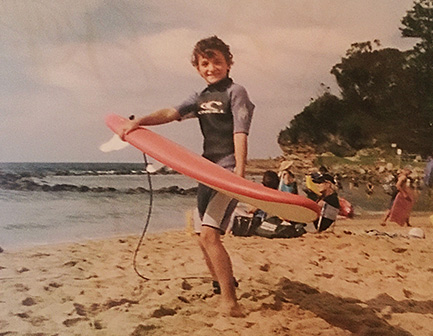 "This Christmas, I am most excited for the big feast obviously. I can't wait to get a big chunk of ham and plenty of cherries on my plate."
"For me, Christmas is about prawns, people, presents and prefect waves."
Over in South Australia, triple Olympic medallist Kyle Chalmers is looking forward to some time away from the water and is having two weeks out of the pool.
However, it's not all rest and relaxation for the 100m freestyle Olympic Champion, who will cross-train through the holiday and has to be strict with his nutrition over the Christmas period.
"When we get back into the pool after a two week break, it's expected that we'll be in good shape, so I need to make sure I am not over indulging."
However, one sneaky treat is on the cards, with the 18-year-old saying a visit to KFC is a must in his two weeks off.
It's the family time that Chalmers is most looking forward too, after such a huge, exciting and exhausting year.
"Catching up with family I haven't seen for a long time, and just sitting around and spending time with my cousins is my favourite thing about Christmas."
For dual Olympian Rowie Webster, there is nothing better than the Christmas feast on the "best day of the year!"
The water polo player's day starts with a workout, followed by a chocolate stocking for breakfast.
She spends time with her family and friends cracking "dad jokes all day", loves her dad's turkey, followed by her mum's Christmas pudding and tops it all off with "a food coma nap on the couch, most likely alongside my dad and brother."
However the 2012 London Olympic bronze medallist will always find time to exercise during the Christmas break.
"At Christmas time, I enjoy the family time and good food, but I never miss out on my exercise or training. I tend to do less water polo and more fun exercise such as surfing or meeting friends for more social workouts, rather than strict training."
We wish all Australian Olympians and supporters a very Merry Christmas and a safe festive season.
Georgia Thompson
olympics.com.au