9 things you didn't know about: Cam Bolton
6 July 2017
Snowboard cross athlete Cam Bolton made his Olympic debut in Sochi where he competed alongside Alex Pullin and Jarryd Hughes.
The 26-year-old will be aiming to make his second Olympic appearance at the Pyeongchang 2018 Winter Olympic Games.
Here are nine facts you didn't know about him!
1. He has a kelpie named Bourbon.
2. Bolton once held the school record for most pencils held in his hair at once.
3. In 2015, Bolton and Team USA Snowboarder Jarod Minghini had a bet that the loser of a World Cup race in Veysonnaz, Switzerland had to shave their eyebrow. Minghini came 5th in his heat, one place ahead of Bolton who now has an eyebrow that grows the wrong way. 
4. He usually eats cereal for dinner.
5. Bolton who is know for having thick curly locks, had dead straight hair until the age of 13.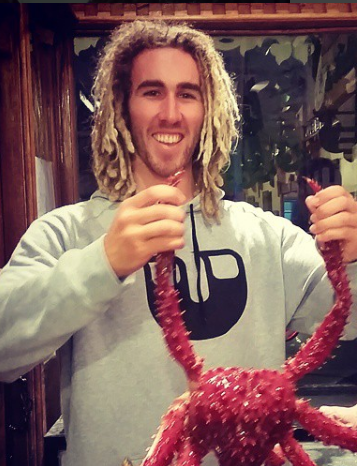 6. Bolton drinks a couple litres of milk each day.
7. A competent surf-life saver and competitor in the men's Ironman series, Bolton says he would prefer to be a professional surfer than an Olympic snowboard cross rider. 
8. His training team hold their meetings on playstation 4.
9. In his most recent semester of university Bolton only attended one hour of classes, and it was a lecture for the wrong subject.