Five in contention for Rio 2016 flagbearer
2 July 2016
Australia's Opening Ceremony flagbearer will be announced on Wednesday in Melbourne with a host of athletes in contention to lead the Australian Olympic Team into Rio's Maracanã Stadium on August 5.
Australian Chef de Mission Kitty Chiller has a tough decision on her hands with over 400 exceptional athletes set to compete in the green and gold at the Rio Games.
She is not just looking for any Rio-bound star who has been to lots of Games to carry the flag though. Chiller is after an individual who not only excels on the field of play but is also a leader off it. A Team Captain that embodies the 'One Team' motto that the 2016 Australian Olympic Team has been built around.
Chiller makes the sole decision on the athlete and for 2016 has broken tradition to announce the flagbearer just over four weeks from the Opening Ceremony rather than the night before. She wants the person to enjoy the experience, not have it impact their performance and for them to start their role as a leader of the Team.
In preparation for the big announcement we take a look at five candidates that would make Australia proud to be bestowed with the prestigious honour.
Kim Brennan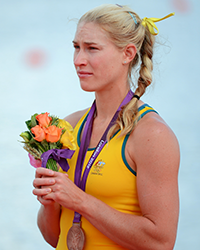 A model athlete both on the water and off it, Kim Brennan is heading to her third Olympic Games in Rio. After finishing tenth in the women's pair in Beijing, Brennan made Australian Olympic history in London. Not satisfied with pushing her body to the limits in one event, Brennan became the first Australian rower to compete in two events at the one Games when she lined up in both the double and single sculls events.
What made the feat even more historic was the fact that she managed to win silver with Brooke Pratley and a bronze on her own. While the Olympics only come around once every four years, Brennan ensures the athletes of the Australian Olympic Team always have a chance to have their voices heard as a part of the AOC's Athletes' Commission.
Cate Campbell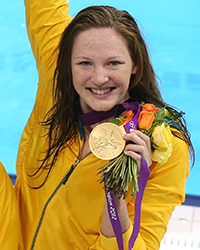 Selected to compete at her third Olympic Games in Rio, swimming superstar Cate Campbell will be aiming for her first individual gold medal at the Rio Games. At just 16 she won two bronze medals on Olympic debut in Beijing before almost having to give away the sport in 2010 due to a form of chronic fatigue syndrome. She didn't let it get the best of her though and she bounced back to win Olympic gold as a part of the 4x100m relay team at the London Olympics. Alongside her sister Bronte, the Campbell duo have dominated sprint freestyle events in recent years and will be hoping to hear the Australian anthem playing on multiple occasions in Rio. She is a leader on the swim team and could do the same for the entire Team come Rio.
Jamie Dwyer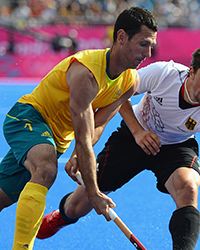 The 37-year-old is arguably the greatest ever player to hit the hockey pitch. Set for a fourth Games in Rio, Dwyer has done it all in the sport having won five world's best player awards, Olympic gold (Athens 2004), two Olympic bronze medals (Beijing 2008 & London 2012), three Commonwealth gold medals, World Cup gold and five Champions Trophy titles. He went down in Australian sporting folklore when he scored the winning goal in Athens to give his side its only ever Olympic gold medal. Still at the top of his game and more determined than ever to lead his team to another Olympic gold, his work ethic and ability to get the best out of the players around him ensures that when he retires – whenever that may be – he will never be able to be replaced.
Anna Meares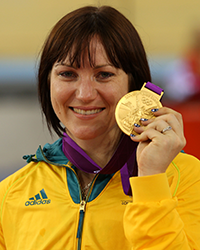 Meares is aiming to become Australia's first three-time Olympic cycling champion in Rio as she is set to become the first female track cyclist to compete at four Olympic Games. Having first become Olympic Champion in the 500m Time Trial at the Athens 2004 Games, Meares highlighted the dogged determination that has characterised her career by remarkably making Beijing 2008 and then standing on the podium In what was one of the greatest comebacks in Australian Olympic history, Meares broke her neck just seven months out from Beijing. Several months of intensive rehab paid dividends when she won women's sprint silver in 2008. Four years later, she claimed gold in the event as she beat her long-time rival Victoria Pendleton in one of the moments of the London 2012 Games. With countless national, Commonwealth Games and world titles to her name, Meares has long been a mentor to Australia's next generation of track cycling stars.
Jared Tallent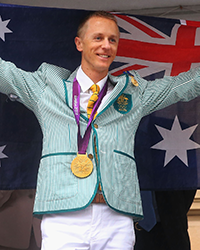 The walkers class has been on show in recent weeks after he handled himself admirably following the fallout of the doping scandal that saw him robbed and then elevated to gold medallist from London 2012. The title of Olympic Champion to go along with his silver and bronze medals from the Beijing 2008 Olympic Games has helped confirm the racewalker from Ballarat as one of the nation's greatest ever Olympians. Tallent has used his time in the spotlight to make a stand for clean sport, free from performance enhancing drugs, in a time where doping scandals are becoming a regularity. His voice has been heard clearly throughout Australia and around the world.
Details
When
Wednesday 8 July
7:30am
Where
Federation Square.
Matt Bartolo
olympics.com.au